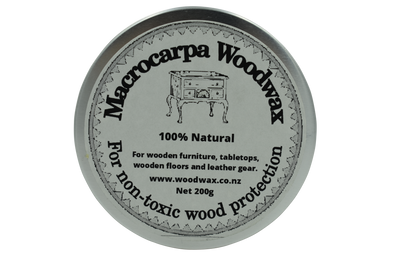 Woodwax Tin 100g
Woodwax
$24.99
Macrocarpa 100% Natural Wood Wax Tin.
Can be applied on all furniture, table tops, wooden floors, wooden toys and also on shoes and leather gear.
For centuries natural waxes and oils have been used to protect timber and furniture examples of these can still be seen in museums in perfect condition
non-toxic, good smell
the wood (can still breathe give off or take on moisture) and enhance the room climate
the surface does not crack scratches or damage can be quickly redone 
water protection 
not electrostatic
no drying time can be used immediately after polishing
No thinners or solvents are used, only contain ingredients that were used over the centuries.
Made with Pure beeswax, Raw linseed oils, and Propolis a product from bees with strong antiseptic properties as protection against fungus and bacteria And macrocarpa to enhance protection against insects.
SKU: 10558