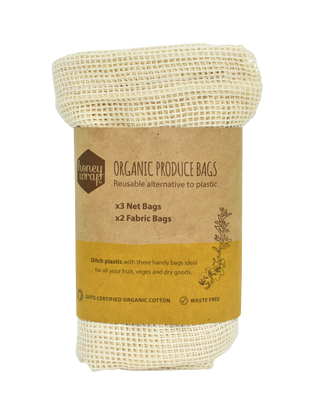 Honeywrap 5 Pack Organic Produce & Bulk Bin Bags
Honey Wrap
$29.99
Feel extra good about leaving behind plastic bags with these cool Honeywrap organic produce bags. Made from certified organic cotton, these bags are durable, washable, foldable, ideal for all kinds of produce as well as being great for the planet. Buy the only combination on the market that has both net bags and fabric bags included!
The net bags are perfect for fruit, vegetables, cans and frozen foods. 
The fabric bags are perfect for seeds, nuts and grains. Full them up at your local bulk bin produce store. 
Set of 5 bags including:
3 Net bags: 25cm x 28cm
2 Fabric bags: 20cm x 20cm
SKU: 11087