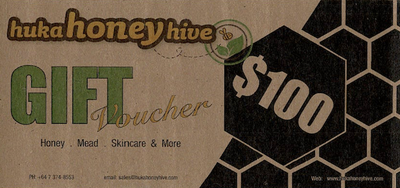 Huka Honey Hive Gift Voucher
Huka Honey Hive
$50.00
The perfect gift for friends and family!  We are so much more than just honey!
Your gift voucher recipient will love our 100% pure New Zealand honeys, artisan meads, beers, ports and gins, natural manuka honey skincare ranges and an amazing array of natural health and wellbeing products including royal jelly, propolis, pollen and bee venom.
Books, toys, souvenirs, eco-ware, home décor, candles, condiments – Huka Honey Hive is so much more than just honey.  There is a unique gift idea for everyone!
Expires 1 year from date of issue.  Voucher will be couriered nationally or internationally.
SKU: 11081